The chemistry of Building a better habit 2

By

stephenkesh20

• 8 months ago •

4530 •

1706
The Disconnect Between Goals and Habits
Here's a common problem that I've experienced when trying to build new habits:
It can be really easy to get motivated and hyped up about a big goal that you want to achieve. This big goal leads you to think that you need to revitalize and change your life with a new set of ambitious habits. In short, you get stuck dreaming about life-changing outcomes rather than making lifestyle improvements.
The problem is that big goals often require big activation energies. In the beginning, you might be able to find the energy to get started each day because you're motivated and excited about your new goal, but pretty soon (often within a few weeks) that motivation starts to fade and suddenly you're lacking the energy you need to activate your habit each day.
This is lesson one: Smaller habits require smaller activation energies and that makes them more sustainable. The bigger the activation energy is for your habit, the more difficult it will be to remain consistent over the long-run. When you require a lot of energy to get started there are bound to be days when starting never happens.
Finding a Catalyst for Your Habits
Everyone is on the lookout for tactics and hacks that can make success easier. Chemists are no different. When it comes to dealing with chemical reactions, the one trick chemists have up their sleeves is to use what is known as a catalyst.
A catalyst is a substance that speeds up a chemical reaction. Basically, a catalyst lowers the activation energy and makes it easier for a reaction to occur. The catalyst is not consumed by the reaction itself. It's just there to make the reaction happen faster.
Here's a visual example: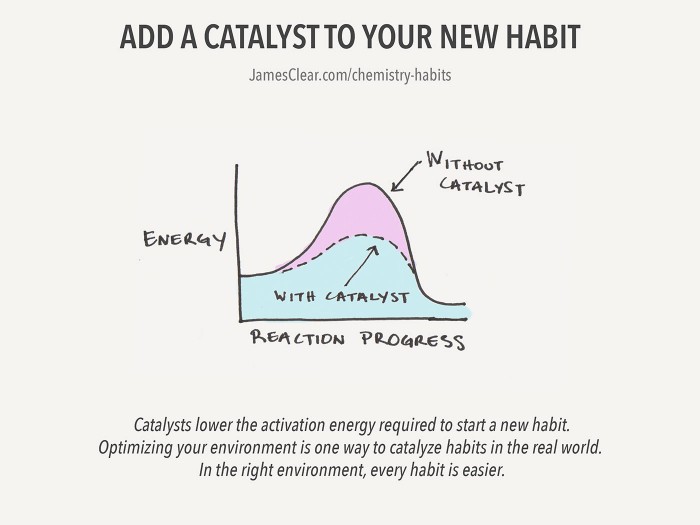 When it comes to building better habits, you also have a catalyst that you can use:
Your environment.
The most powerful catalyst for building better habits is environment design (what some researchers call choice architecture). The idea is simple: the environments where we live and work influence our behaviors, so how can we structure those environments to make good habits more likely and bad habits more difficult?
Here is an example of how your environment can act as a catalyst for your habits:
Imagine you are trying to build the habit of writing for 15 minutes each evening after work. A noisy environment with loud roommates, rambunctious children, or constant television noise in the background will require a high activation energy to stick with your habit. With so many distractions, it's likely that you'll fall off track with your writing habit at some point. Meanwhile, if you stepped into a quiet writing environment—like a desk at the local library—your surroundings suddenly become a catalyst for your behavior and make it easier for the habit to proceed.
Your environment can catalyze your habits in big and small ways. If you set your running shoes and workout clothes out the night before, you just lowered the activation energy required to go running the next morning. If you hire a meal service to deliver low-calorie meals to your door each week, you significantly lowered the activation energy required to lose weight. If you unplug your television and hide it in the closet, you just lowered the activation energy required to watch less television.
This is lesson two: The right environment is like a catalyst for your habits and it lowers the activation energy required to start a good habit.
Related Post viewed by other
Requires LoginThis Post has reached maximium comment limit
Information Bar
🔥🔥HOT🔥🔥 LPVFORUM Income Members Payout Processed - Today's Payout List - Over 4Million Paid